Governance
The National Women's Safety Alliance is governed by YWCA Canberra, with a strong underpinning governance framework. YWCA Canberra has been awarded the contract for the NWSA through funding from the Commonwealth Government.
The Governance committee comprises of the CEO of YWCA Canberra, and an independent member that is a CPA or CA qualified accountant.
Governance Committee
Frances Crimmins, CEO of YWCA Canberra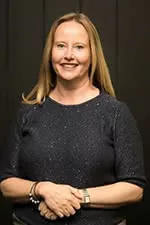 Frances has been the CEO of YWCA Canberra since 2013. She has led YWCA Canberra through a significant change processes in integrated services delivery, corporate service review and evaluation frameworks. In response to identified community need, including during the COVID-19 crisis, Frances has spearheaded a range of new programs in the areas of addressing domestic and family violence and women's homelessness, as well as empowering women to take authentic leadership journeys.
Frances volunteers on a variety of boards and committees including: National Older Women's Housing and Homelessness Working Group and Homelessness Australia. Frances is a former Board Director of WESNET, former Chair of the ACT Ministerial Advisory Committee for Women, former Co-Chair of Anti-Poverty Week in the ACT and former Board Director of No Sweat Fashion.
In 2015, Frances received an Edna Ryan Award for advancing the status of women in the ACT. In 2016, Frances was named ACT Leader of the Year at the Australian Leadership Excellence Awards run by the Australian Institute of Leadership and Management. She also attended Commission for the Status of Women in New York in 2017, 2018 and 2019.
YWCA Canberra operates under a strong governance model and is governed by a board of up to 12 company directors who define the strategic goals of the organisation. Read more here.
---
Please see the attached documents relating to our structure and processes.
National Women's Safety Alliance Structure
Governance Committee Terms of Reference
Terms of Reference Policy Advocacy and Advisory Committee
Terms of Reference PAAC Working Groups
Nomination Information: Australian Delegation to the 68th UN Commission on the Status of Women